Garanti Gallery Istanbul
is proudly be announcing the exhibition on the works of Israeli industrial product designer Ezri Tarazi entitled "
TARAZI DESIGN STUDIO: PER-CAPITA
" between 23 October and 15 December 2007.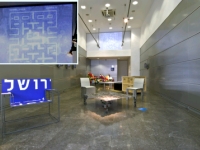 Feng-GUI lab created the video installation at "Per-Capita" that traces the signs placed on the head of each person visiting the exhibition. The visitors wear over their heads a piece of cloth marked by a red routing cross.
A tracking camera 'identifies' the sign, tracks it down and puts a routing cross on it. By screening the "tracking map" on the gallery wall, the background images constantly shift producing a different context for each situation. In one situation the exhibition visitors become targets of targeted killing, and in the other situation they are individuals in a video game.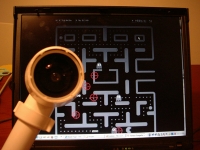 PER-CAPITA places in front of the visitor/the participant in the exhibition futuristic, intriguing questions raised by the twentieth century. Will nationality keep its presence and relevance? Will the planet "raft" be able to go on carrying its inhabitants? What sort of relevance will hierarchy have? What power reservoirs will be required in order to connect with the different? Will Jerusalem stay united?
Will religiosity become a destructive or productive factor? Where will the wells of salvation come from?
Per Capita review at Designophy
from Ezri Tarazi blog:

On the opening moments of my exhibiting PER CAPITA in Istanbul at the Garanti Gallery, we found ourselves in the midst of a huge demonstration against TEROR.
Few days before the opening 17 people were killed on the east side of Turkey by the PKK, the Kurdish organization. Just in front of the gallery, thousand of people were
marching on the Istiklal road, the main street of Istanbul.



I was lecturing on that day at the Istanbul Technical University about the concept of Realism and Reality Design. I did not imagine that it will become so expressive. We had the HEART 'flags' from the interactive installation on the show, so we took them and waved with them on the street. People were responded to it in consent. I assume they have accepted it as a peculiar way to demonstrate the superfluous use of terror and bloodshed in the world.


The RED of the HEART 'flags' were exactly the same RED of the Turkish flag. At the heart of the gallery we showed 'crowded', the sofa made of sections of national flags. It had an interesting inter locution with the flags and loud voices out side of the gallery.

Per Capita became at once from a philosophical overview to a REALITY DESIGN event mixing with the powers of people out on the streets of Istanbul.